1. Modern Home In Mountain's Edge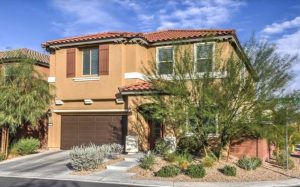 5 Bedroom House For Sale Location
Located at 11018 Elk Sands Road, Las Vegas, NV 89179, this $575K single family detached home was built in 2015 by Pulte.
This is an excellent two-story home with an open floor plan, which means there is a lot of flexibility when it comes to how you arrange the interior decorations and furniture.
This house has a great kitchen with granite countertops, a pantry, a built-in microwave, cooktop, recessed lighting, stainless steel appliances, and more.
Interior of 5 Bedroom House For Sale
The layout of this home is convenient, with the primary bedroom and bathroom both located downstairs. The primary bathroom is particularly appealing, thanks to its dual sinks, shower with dual showerheads, and walk-in closet.
The flooring is a combination of carpet and tile.
Outside the home, there is a covered patio, a private backyard, and an attached garage with two spaces.
Nearby Schools For 5 Bedroom House For Sale
Nearby schools are Jones Blackhurst Elementary School, Lois and Jerry Tarkanian Middle School, and Desert Oasis High School.
The local community has walking trails and parks.
2. Beautiful Home In Southern Highlands *This home has been sold!*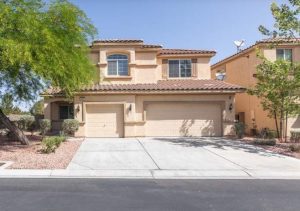 5 Bedroom House For Sale Location
Located at 3128 Cori Rosso Lane, Las Vegas, NV 89141, this $650K single family detached home was built in 2005.
Interior of 5 Bedroom House For Sale
This home is nestled comfortably within a Southern Highlands gated community and features what you would expect—a beautiful interior, a very large master bedroom, and brand new carpet and laminate flooring, among many other great features.
Outside the home, there is a large backyard and a three-car garage.
This is a corner lot.
Nearby Schools For 5 Bedroom House For Sale
Nearby schools are Evelyn Stuckey Elementary School, Lois and Jerry Tarkanian Middle School, and Desert Oasis High School.
3. Home Located A Few Minutes From The Strip *Sold*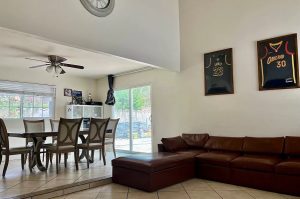 5 Bedroom House For Sale Location
Located at 4304 Mott Circle, Las Vegas, NV 89102, this $550K single family detached home was built in 1979.
This is an older home with a very comfortable interior. We particularly enjoyed walking through the spacious living room, inviting bedrooms, and the roomy backyard, all of which make for an attractive purchase.
Outside 5 Bedroom House For Sale
Outside the home, there are solar panels, an attached two-car garage with an extra carport, and a large 6,970 square foot lot.
Nearby Schools For 5 Bedroom House For Sale
Schools nearby are Vegas Verdes Elementary School, Cashman Middle School, and Clark High School
4. Refurbished Home With A Pool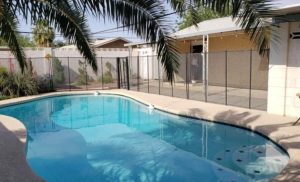 5 Bedroom House For Sale Location
Located at 4676 Tamalpias Avenue, Las Vegas, NV 89120, this $379K single family detached home was built in 1971.
Interior of 5 Bedroom House For Sale
This one-story home has a warm, inviting atmosphere. Comfortable bedrooms, a wonderful kitchen area, and a large lot with a pool make this a compelling contender.
We expect this house to go fast.
5. Former Model Home With Lots Of Upgrades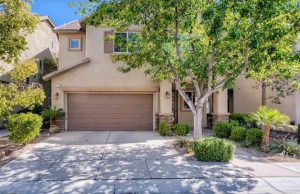 5 Bedroom House For Sale Location
Located at 3163 Varenna Ridge Avenue, Las Vegas, NV 89141, this $550K single family detached home was built in 2007.
Interior of 5 Bedroom House For Sale
This house brings a lot to the table. It has a kitchen with granite countertops, a great guest suite with a full bath and loft, and so much more. Check out the pictures we've posted at the link above.
Nearby School For 5 Bedroom House For Sale
Nearby schools are Dennis Ortwein Elementary School, Lois and Jerry Tarkanian Middle School, and Desert Oasis High School
Find Your 5 Bedroom House For Sale With Us
If any of the houses on this list interest you, call us at 702-310-6683.
Not what you're looking for? Well, the good news is, we have several more five bedroom homes available for your consideration. You can find them using our Home Search page.
If you would like one of our experienced real estate agents to help you search for your ideal home, call us anytime. We will open a dialogue with you to learn what your must-haves and deal-breakers are and how we can best accommodate your needs.
All of our agents have separate lines of communication, so if you'd like to talk to a specific agent, let us know, and we'll put you in touch!
Further Reading: Tips For Finding A
5 Bedroom House For Sale
In Vegas
Finding a new home isn't always easy. Fortunately, there are tried-and-true principles that you can follow that will make your search easier. Keep reading to learn more about them!
Be Cautious About Zillow's Price Estimate
Did you know that when Zillow makes a price estimate, they are using a formula that may not be 100 percent accurate?
While Zillow and other real estate marketplace companies try to be as accurate as possible, their price estimates are actually based on user-submitted data and are sometimes subject to error.
A price estimate on Zillow might be quite different from the appraised value.
If you see a price that is either too high or too low on Zillow, but you like the look and feel of the house, it's a good idea to follow up with some research and find out the actual price of the home.
Know What Your 5 Bedroom House For Sale Looks Like
Before starting your search, it's good to know what you're looking for in a home. This will narrow down your list of possibilities and keep you from spending a lot of time looking at homes that ultimately don't meet your needs.
The question to ask yourself is, "What style of home do I really want?"
Are you looking for a townhome, a single family detached home, or even a luxury villa? Whatever the answer is, once you know what you want, you can then start getting specific with the details.
Determine What You Want And Don't Want
As we just mentioned, you first have to know what you want on a broad scale.
Then, once you've figured that out, you can determine what you want your house to have and what you absolutely don't want.
You can also determine the areas where you are willing to compromise.
Your list of must-haves and deal-breakers shouldn't be limited to your house alone. We recommend taking into account numerous elements, such as nearby schools, amenities, and the local neighborhood.
Accounting for the future is also important. If you're planning on having kids, having other family members move in with you, or getting a pet, this should have some influence on your buying decision.
Try Remodeling
Not every home you look at will be in top shape. But this doesn't necessarily mean that a home in need of some TLC is a bad choice. Maybe that fixer-upper is actually your dream home in disguise.
If you find a great home that needs some work, you might consider remodeling.
Things like replacing the carpet or upgrading the kitchen with better appliances aren't too hard to do but can make a world of difference.
Get A Pre-Approved Loan
Getting pre-approved for a loan is tremendously advantageous when you are buying a home.
Once your lender has decided how much they're going to lend you, you'll have a much better idea of your budget and what homes are realistically available.
Spend Time In The Local Area
The conditions of your local area have a huge impact on your quality of life, so it's a smart idea to spend a few days driving around the area and seeing if you like it.
Visiting schools and local restaurants and even attending community events—all of these are important.
Another thing to pay attention to is traffic. What kind of traffic will you be dealing with on a day-to-day basis? What is rush hour traffic like in your preferred area?
Finally, what is the local market like? Will the value of your home increase over the next several years?
These are all important questions.
Get A Survey If Needed
Knowing your property lines is essential when buying a home. Property line maps are usually available to buyers, but if not, you'll want to get a survey, so you don't run into any surprises.
This will save you a lot of trouble if you ever have a property dispute with a neighbor or encounter another issue in which knowing the boundaries of your property is necessary.
Get An Inspection
Getting an inspection is not only a good idea but is necessary (in our opinion) for finding a high-quality home. Home inspections frequently detect things that buyers miss.
The average cost for a home inspection in the Las Vegas area is around $300. Given that your inspection can find issues that could cost you thousands of dollars or more to fix, this makes the price of your inspection well worth it.
Once you know what the problems are, you can decide whether or not you want to fix them.
Work With A Pro
While there is nothing wrong with using the internet to search for an ideal home, we don't think it's a good idea to rely solely on the internet.
The next step is working with a real estate agent unless you have a lot of experience buying homes by yourself.
Not only will a real estate agent help find you high-quality homes, but they will also negotiate with the seller on your behalf to land you the best deal…and they will put you in contact with trusted inspectors, contractors, and landscapers so that you don't have to search around for the right people.
Why Buy A Home In Las Vegas?
If you're on the fence about buying a home in Las Vegas, there are two big reasons why it may be a good idea.
[1] The Las Vegas Economy Is Thriving Post-Pandemic And [2] The Real Estate Market Is Strong
Lake Tahoe, the Great Basin National Park, and near to Las Vegas, the Red Rock Canyon Nation. There is no denying the impact that the pandemic has had on the state of the economy.
Fortunately, as we move into a post-pandemic world, Las Vegas is showing steady signs of economic recovery, thanks to its business-friendly policies and framework.
The city doesn't have a corporate tax, personal income tax, franchise tax, or inventory tax. And property taxes are low.
All these elements have bolstered the tourist, entertainment, and recreation industries, which are the city's lifeblood, and arguably put Las Vegas ahead of the curb on the road to economic recovery.
These advantages have been greatly bolstered by smart decision-making on the part of the Las Vegas government, making the city an especially ideal place for young professionals looking to build careers today.
Fact About Nevada's Personal Income Tax
Here's a fun fact about Nevada's personal income tax that is worth mentioning:
Nevada is only one of seven states in the USA that doesn't have one.
The state does, however, have a sales tax, which is currently set at 6.85%. In our experience, most people are more than willing to pay this amount due to the numerous other tax benefits that the state provides.
Tax benefits aside, Nevadans will tell you they have other reasons for living here, one of which is the state's natural beauty.
Nevada's Nature Areas
Nevada's beauty might be one of its most overlooked features, but it has several gorgeous areas, including Lake Tahoe, the Great Basin National Park (and nearer to Las Vegas), the Red Rock Canyon National Conservation Area, and Lake Mead.
Residents of Las Vegas can quickly access these latter two areas and enjoy a fun day out with friends and family.
Las Vegas Weather
The best part? Las Vegas has great weather. Those who've never visited the city might be surprised to hear this because of its dry climate. But the average annual temperature in Las Vegas is only 68.5 °F.
You can learn more about average monthly temperatures in Las Vegas here.
Not surprisingly, all these factors have bolstered the real estate market post-pandemic.
In fact, even during the pandemic, Las Vegas' appeal manifested itself in a resilient housing market.
The city saw a nearly two-and-a-half percent increase in its metro area population from 2021 to 2022, making it one of the fastest-growing metropolitan areas in the world. And some experts say this is just the beginning.
The University of Nevada Las Vegas Center for Business and Economic Research believes that Las Vegas and its surrounding areas will see an increase of over 3 million people over the next 30 to 40 years.
Population increase of this magnitude indicates a strong housing market and a promising economy.
Las Vegas Has Several Great Locations
If you're thinking about getting a home in Las Vegas, there are plenty of housing options away from The Strip.
These areas include Mountains Edge, Summerlin, Aliante, Sky Canyon, Coronado Ranch, Green Valley Ranch, and Centennial Hills.
Current Mortgage Rates In The United States
Prospective homebuyers may want to act fast to secure homes while mortgage rates are low. Mortgage rates in 2020 and 2021 were lower than they've ever been and are still fairly low…but currently rising.
The current 30-year mortgage rate is hovering around 5.5%. Meanwhile, the 15-year mortgage rate is roughly 4.5%. The historic average is roughly 8%.
The COVID-19 pandemic is the main reason we are seeing current rates.
During the heat of the pandemic, the Federal Reserve took action to bring the rate down as much as possible to bolster the economy and ease the financial burden of millions of Americans.
As helpful as the measures have been, they are only temporary, and it's only a matter of time before mortgage rates go up again.
Some experts believe that we could return to the historical average of 8% by 2025.
Eager homebuyers should take note of this and act fast while they can.
How To Get A Lower Mortgage Rate
1. Secure A Low Rate
To secure a lower mortgage rate, one of the best things you can do (as we just mentioned) is to act fast. That's the first step.
The next step, once you've signed your purchase agreement, is to ask about locking in your mortgage rate.
This is important because closing on your home can take a month or longer, and it's possible that your mortgage rate will change before your deal closes.
Securing your mortgage rate is a smart choice, although you may have to pay a fee to do so. Just keep in mind that locking in your mortgage rate can backfire if mortgage rates are expected to fall.
While we don't anticipate mortgage rates to go back down to where they were in 2021 and 2022, it's still a good idea to speak to your bank about securing a lower interest rate if one becomes available.
Securing a better interest rate after yours has already been locked in is known as getting a float-down option.
2. Make a Bigger Down Payment
Bigger down payments equal a better chance of getting a low mortgage rate. You'll want to pay attention to your loan-to-value (LTV) ratio.
Your LTV is a measurement of how much your loan is compared to the total cost of your house. If, for example, your house costs $200,000 and your loan is $100,000, then your LTV ratio will be 50%, i.e., half the price of your home.
In the mortgage world, you want a low LTV. The lower it is, the less financial risk you pose to the bank, and the more incentivized they will be to offer you a lower interest rate.
Small down payments and high LTVs, on the other hand, make you a risky prospect to your bank and will lead to a higher interest rate.
3. Set Up Automatic Mortgage Payments
Did you know that it's possible to lower your mortgage rate by setting up automatic mortgage payments?
While not every bank allows this, many do. However, it is possible that you might lose your rate if you change banks.
So, once you lock in your interest rate, you should be prepared to stay with your bank for the long run.
4. Close Faster
Another way you can save money is by closing quickly on your home.
A good rule of thumb is that the longer you wait to close on your home, the more issues you'll face. Speed is important, although you certainly don't want to rush into making a decision.
Before closing on your home, it's very important that you follow common-sense steps, such as getting a home inspection.
Fortunately, you can get a home inspection and handle other necessities fast. You'll want to do your due diligence within a couple of weeks so that you can wrap up the closing process within 30 days.
Most mortgages have 30-day locks, so if you wait longer than that, you'll end up paying more. How much more can be quite significant, up to half a percent, which will accrue over time.
The best way to close fast is to prepare your documents ahead of time. You'll need to prepare your W-2s, bank statements, tax returns, proof of homeowners insurance, and your credit history report.
You should also get a pre-approved mortgage before looking for a home. This will allow you to go to your lender and say, "Hey, this is the house I'm looking to get. Are you willing to finance this?" They'll check to see if the house meets their requirements, and if it does, you'll be able to move forward quickly.
Getting preapproved for a mortgage is a process, and you should at the very least expect to show how you plan on making your down payment.
5. Shorten Your Loan Term
In general, banks incentivize borrowers to get shorter-term loans by offering them lower interest rates. So, naturally, one of the surefire ways to lower your rate is to get a shorter loan.
If you feel you can handle a shorter-term loan (you may have to make some budgeting decisions), then you'll save a substantial amount of money.
6. Change Your Monthly Payment Strategy
Changing how you make your mortgage payments is one of the more effective ways to lower your interest rate.
The first way to change your payment strategy is to pay a little more per month than is required.
Let's say, for example, that your monthly mortgage payment is $1000. If you pay $1300 a month instead, you'll obviously shave a lot of time off your loan term and lower the amount you pay on interest.
Paying every two weeks as opposed to once a month is another way to change your payment strategy.
Biweekly payments increase the rate at which you make your payments by a significant margin.
This might seem slightly counterintuitive at first glance, but since there are 52 weeks in a year, when you pay your mortgage every two weeks, you end up making 26 payments per year, as opposed to 12.
If your monthly mortgage payment is $1000, and your biweekly payment is $500, you'll have four extra payments of $500 per year following the biweekly model.
7. Improve Your Credit Score
The last way that you can lower your interest rate, which we want to mention here, is to improve your credit score. Doing so can save you thousands of dollars over the course of your loan.
Your credit score is how your bank rates your trustworthiness and ultimately calculates your interest rate. The steps you can take to improve your credit score include making your payments on time, avoiding late payments, and paying off outstanding debt.
A Little Bit More About The Real Estate Guy
Aaron Taylor The Real Estate Guy and the other core members of The Real Estate Guy team have been helping people buy and sell Las Vegas homes for decades.
In the past several years, operations have expanded, and we now work in many areas around Las Vegas, including Henderson, Paradise, North Las Vegas, Mt Charleston, Pahrump & Laughlin.
We have many happy clients and get much of our work from referrals. That's because people trust us. The culture at the Real Estate Guy is all about going above and beyond to make sure you are 100 percent satisfied with your home sale or purchase.
If you are currently looking to buy a home, we can help you find just the right place, whether you want multiple acres, several baths, a big backyard, a pool—you name it.
If you have any questions about the sq ft of your Las Vegas home, your property lines, HOA fees…whatever it is, reach out to us today. We'll be happy to answer your questions.