If you're looking for a home in Las Vegas, then you're probably trying to find the best possible area for you and your family to live in.
While choosing a home is a big deal, and it can be difficult knowing where to put down roots, the good news is that companies like The Real Estate Guy are here to help.
We have years of experience helping people find their dream homes in Las Vegas and are intimately familiar with the best neighborhoods in the city.
Whether you are empty-nesters, have a family with kids, or are a single professional, we can find a place that is perfect for your needs.
Work With One Of The Best Real Estate Agencies In Las Vegas
If you already have an idea of where you want to move and are ready to get started on your home search, call us today at (702) 310-6683. One of our experienced team members will assist you.
Quick Note About Our Top 10 Neighborhood List
A lot of people have been curious about the 10 most popular neighborhoods to buy a home in the Las Vegas area, which is why we have compiled this list.
Before we share it, however, please note that popularity can be a tricky thing to rank, as popularity varies per demographic and other factors. This is why we've simplified our rankings and based them on three core metrics, which are as follows:
(1) Real Estate and Income, (2) Schools, and (3) Things To Do.
Please also note that we've included master-planned communities in this list, each of which is home to multiple neighborhoods.
10 Most Popular Neighborhoods To Buy A Home In Las Vegas
1. Summerlin (Our Top Pick)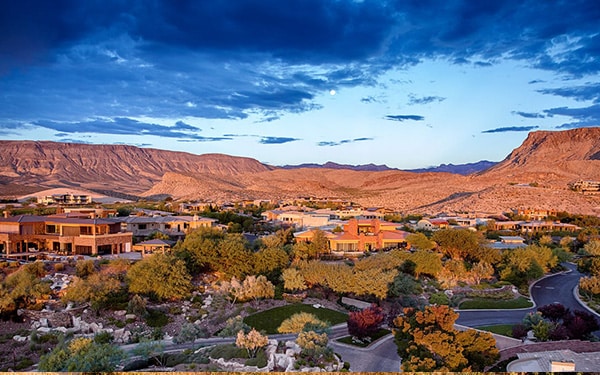 With a population of approximately 125,000 people, Summerlin is a fantastic place to live.
Technically, Summerlin is a master planned community rather than a single neighborhood and in fact has over two dozen villages in it.
Although it's much larger than one neighborhood, Summerlin is certainly worth mentioning here, given how popular it is and how much it has to offer.
One of the things that makes Summerlin so special is that some of the best home builders in the entire Las Vegas area have developed homes here, meaning that families have an easy time finding exceptional quality homes.
Another big advantage of Summerlin is the layout of the community, which offers quick and easy access to various amenities.
Summerlin is located in the Las Vegas Valley and is near Red Rock Canyon.
A Little Bit of Summerlin History
Much of what we know as Summerlin was first purchased by Howard Hughes Jr. in 1952.
Originally named Husite, the land was first intended to be used as an aviation center, but after Howard Hughes Jr. passed, his heirs decided to turn the land into a fully developed master planned community, and it was renamed Summerlin.
The Summerlin we know today is quite different from what was initially intended, geographically speaking, since the original land had 5,000 acres adjacent to Red Rock Canyon (this was before Red Rock Canyon was turned into a national conservation area).
Before development began, however, the acreage was traded for 3,000 acres to the south.
With the new acreage in place, Summerlin's development then began, kicking off in 1991. The first school, Lummis Elementary, opened two years later in 1993.
Summerlin has seen a lot of changes over the years, one of the biggest being the construction of Summerlin Parkway, which provided residents convenient access to the greater Las Vegas area.
Ongoing developments have continued throughout the decades, such as the creation of Sun City in 2000 and The Cliffs village in 2015.
Development is expected to continue until 2030, at which point Summerlin expects to reach capacity with roughly 200,000 residents.
Summerlin Real Estate and Income Overview
Summerlin is home to some of the most well-known homebuilders in the nation, including KB Home, Pardee Homes, and Woodside Homes, and offers well over 100 floor plans.
This master planned community has several home types, including single-family, multi-family, townhomes, and custom homes.
Given the wide variety of homes available, Summerlin is perfect for families that are looking for something accessible and unique.
While Summerlin is an upscale community, some of its villages are well-suited for less affluent families.
According to Realtor.com, median listing home price in Summerlin is $485.9K, and median listing home price/sq ft is $295.
According to Niche, median home value is $310,162, median rent is $1,480, and median household income is $74,688. Families with children comprise 24% of the total population.
Where To Buy A House In Summerlin
Actively selling Summerlin villages include:
The Canyons – Buyers here can find single and multi-family homes, custom homes, condos, and tract homes. If you are considering buying a tract home in this village, you will be pleased to know that Summerlin limits how close they are built to each other, meaning you won't encounter the "sardines in a can" feel that a lot of neighborhoods with tract homes have.
The Cliffs – Single and multi-family homes are available here.
Redpoint & Redpoint Square – Single-family attached and detached homes and homes with contemporary Spanish architecture are available here.
Additional Availability: There are also homes available in South Square, Stonebridge, and The Mesa. For information about the types of homes that are available in these villages, contact us today at (702) 310-6683
Schools In Summerlin
Summerlin places a great emphasis on education and has some of the best schools in Nevada, including the West Career and Technical Academy, which is one of the highest-ranked high schools in the Clark County School District.
There are over two dozen schools in Summerlin in total, 10 of which are nationally recognized private schools.
Higher learning facilities in Summerlin include University of Phoenix, Roseman University of Health Science, and College of Southern Nevada Learning Center.
Things To Do In Summerlin
Summerlin is a smartly planned Las Vegas community, meaning that residents have quick and easy access to shops, gyms, restaurants, nine different golf courses, and some of the city's best entertainment.
A big draw for many residents is the community's proximity to The Strip, which is only about 15 minutes away.
While most Summerlin residents are willing to make the drive to The Strip to experience its world-class venues, they don't have to drive that far for movies, entertainment, and casinos.
Century 16 Suncoast movie theater, Las Vegas Mini Grand Prix Family Fun Center, Red Rock Casino Resort and Spa, and much more are all local to the Summerlin community.
Share In The Beauty of Nature Near Summerlin
Summerlin is also great for nature lovers, as it has an incredible 250 parks and more than 200 miles of trails. For those who want a serious hike, the Red Rock Canyon National Conservation Area is only 20 minutes away. The word is that eventually, the local Summerlin trail system will connect to Red Rock Canyon.
2. Green Valley Ranch (Our Runner Up For First Place)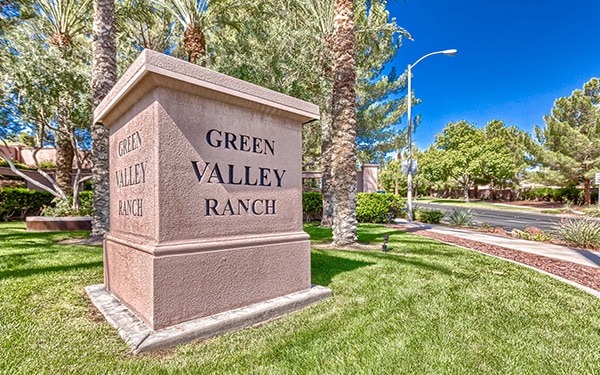 Constructed in 1994, this 1,300-acre master planned community in Henderson has seen consistent growth for years and now has a sizable population that is estimated to be about 17,000.
For those interested, Green Valley Ranch is actually part of the greater Green Valley master planned community, which was founded in 1978 and is Southern Nevada's first MPC.
Depending on who you ask, some people consider Green Valley Ranch a neighborhood within the larger Green Valley development or a master planned community in its own right.
Whatever view one might take, there is no doubt that Green Valley Ranch is an excellent place to live.
It has high-quality homes that are available at affordable prices and has been voted one of the top places to live in Nevada.
Green Valley Ranch Real Estate and Income Overview
Single-family, multi-family, custom homes, and townhomes are all available in Green Valley Ranch.
Given the diversity of homes available, what you can expect to pay here ranges widely, from $200,000 up to $1 million.
Custom homes in this community are found at The Estates at Green Valley, which is a gated community located near the Green Valley Parkway and I-215.
The Estates is an exceptionally walkable community and has various amenities that make it an attractive option for many.
Outside of The Estates, the layout of Green Valley Ranch gives it a suburban and somewhat compact feel, but the homes are spread out enough to avoid feeling like tract homes.
According to Realtor.com, median listing home price is $529K, and median listing home price/sq ft is $267.
According to Niche, median home value is $367,782, median rent is $1,666, and median household income is $97,256. Families with children make up 31% of the total population.
Schools Near Green Valley Ranch
Green Valley Ranch is located fairly close to 9 schools. These include Lighthouse Academy, John C. Vanderburg Elementary, and Bob Miller Middle School.
Just north of Green Valley Ranch in Green Valley South is Greenspun Junior High School, and in Green Valley North, there is Green Valley High School.
Silverado High School sits on the border between Green Valley and Paradise.
Higher education facilities near Green Valley Ranch are DeVry University, Touro University Nevada, and Las Vegas Medical Assistant School.
For more information about the schools in and around Green Valley Ranch, call us at (702) 310-6683.
Things To Do In Green Valley Ranch
Like Summerlin, Green Valley Ranch is a great place for nature lovers, as it has more than 200 acres set aside for parks, walking and bike paths, and other amenities.
Local parks include Friendship Park, Dos Baseball Fields, Nicolai's Para Dog Park, Paseo Verde Park, and Discovery Park.
For those looking to escape the summer heat, there are a few community pools that are available to residents. They are the Pacific Trace Community Pool, The Pool at Green Valley Ranch, and the Henderson Multigenerational Outdoor Competition Pools.
For those wanting to hike, Sloan Canyon National Conservation Area is not too far, perhaps a 10-minute drive. You can access the conservation area through the Anthem Hills Park & Anthem East Trailhead or the McCullough Hills Trailhead.
If you are not a sports or outdoors person, Green Valley Ranch still has plenty to offer since there are many local restaurants and entertainment venues.
You might consider checking out the Green Valley Ranch Resort Spa and Casino, or if you have kids, you can join in on the fun at Uptown Jungle Fun Park.
Overall, many of the activities in Green Valley Ranch are very family-oriented, so this area is certainly worth considering for couples looking to raise families.
3. The Lakes (Perfect For Water Lovers)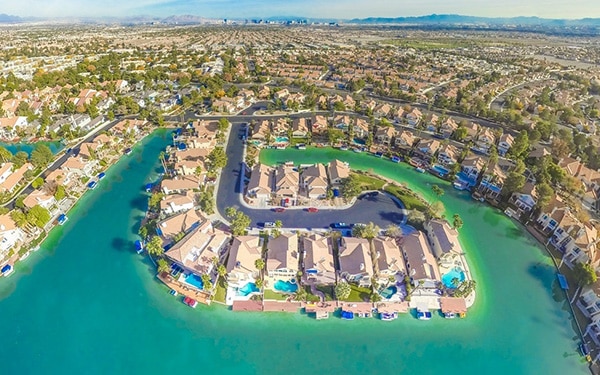 Built in the 1980s as an oasis in the middle of the desert, The Lakes is a master planned community that has remained a staple of Las Vegas culture ever since.
Located close to Summerlin South, The Lakes is a generally upscale community with a strong selection of waterfront properties, thanks to Lake Sahara.
The Lakes Real Estate and Income Overview
Within the various gated communities at The Lakes, you will find single-family homes, tract homes, custom homes, and condominiums.
According to Realtor.com, median listing home price is $544.9K, and median listing home price/sq ft is $239.
According to Niche, median home value is $337,723, median rent $1,484, and median household income is $63,707. Families with children make up 20% of the total population.
There are approximately 4,000 homes in the community.
Schools Near The Lakes
The Lakes is close to a number of excellent schools, which is a big plus for many families.
Nearby schools include R. Guild Gray Elementary School, Herbert A. Derfelt Elementary School, Kenny C. Guinn Middle School, Clifford J. Lawrence Junior High School, Walter Johnson Junior High School, Odyssey Charter High School, Spring Valley High School, and Bonanza High School.
Things To Do In The Lakes
Most activities in The Lakes center around Lake Sahara, which covers approximately 30 acres, and is a fun place to fish, boat, and swim.
What makes Lake Sahara attractive to residents is that only homeowners and their guests can use it. As a result, it is rarely crowded.
For those looking for shopping and community interaction, The Lakes Town Center Plaza has a mini-market, restaurants, a pet store, and other shops.
Residents of The Lakes are able to tie up to the Lake Town Center dock and buy groceries and get other necessities without leaving their boats.
4. Desert Shores (A Family-Friendly Community With Access To Four Lakes)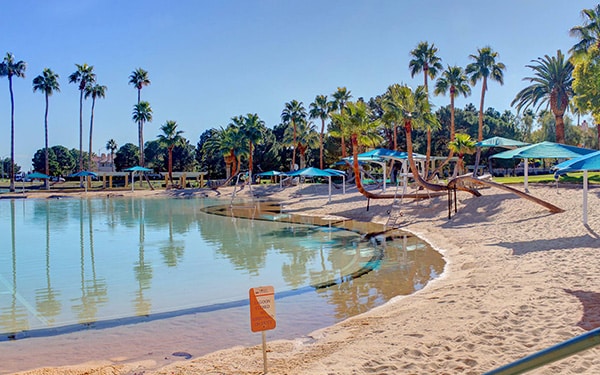 Located just east of Sun City Summerlin in northwest Las Vegas, Desert Shores is a fantastic 700-acre, master-planned community.
With residents spread across its 28 neighborhoods and four different lakes, this is a sizable community and a great place for families.
As you might imagine, the selling point for many residents here is the water. The four lakes at Desert Shores are Lake Maddison, Lake Sarah, Lake Jacqueline, and Lake Lindsey.
Desert Shores Real Estate and Income Overview
Desert Shores has single-family homes, custom homes, condos, and townhomes available.
There is a lot of variety here, both in terms of floor plans and pricing, making the community an appealing option for people of different walks of life.
According to Realtor.com, median listing home price is $394.9K, and median listing home price/sq ft is $246.
According to ZeroDown, median household income is $76,354.
Schools Near Desert Shores
Schools near Desert Shores include but are not limited to Richard H Bryan Elementary, William R. Lummis Elementary, Saint Elizabeth Ann Seton Catholic School, Doral Academy – Fire Mesa (charter school), Irwin & Susan Molasky Junior High School, and The Meadows School (college preparatory school).
Things To Do In Desert Shores
Much of the activity at Desert Shores hinges around the lakes. As such, many residents go to Regatta Drive, which is located near Lake Jacqueline.
The restaurants off of Regatta Drive include Americana Restaurant, Village Pub & Casino, and the top-rated Marché Bacchus.
Regatta Drive is also home to the Desert Shores Community Association villa-style clubhouse, which has mounted beach canopies, pavilions, and the popular Lagoon Pool.
Those who love sports are in luck since they get to enjoy the clubhouse's sand volleyball court, basketball court, playground, and large grassy areas.
If you are a resident and are looking to get out on the lake, there is fishing and paddle boating available.
If you decide to go boating, get your camera ready because you might spot the wildlife, which aside from fish, includes waterfowl, turtles, coyotes, and rabbits.
5. Skye Canyon (A Solid Choice For Affluent Families)
Sky Canyon is a 1,700-acre master-planned community that is perfect for families due to its warm and friendly environment and comfortable neighborhoods.
Located between The Las Vegas Strip and Mt. Charleston, this community is especially attractive to those looking for gorgeous mountain views and desert landscapes.
Skye Canyon Real Estate and Income
One and two-story family homes are most common in Skye Canyon.
According to Realtor.com, median listing home price is $602.5K, and median listing home price/sq ft is $245.
According to ZeroDown, the median household income is $87,125, while families with children make up 41% of the total population.
This community is actively being developed, which means there are a lot of opportunities to find new homes here.
Schools In Skye Canyon
Skye Canyon has wonderful schools within the local area, including three K-5 schools, two middle schools, a high school, and a charter school. The community plans to add up to three additional schools to support and serve the community.
Things To Do In Skye Canyon
The crowning jewels of Skye Canyon are Skye Center, Skye Canyon Park, and Skye Fitness, all of which are connected to a soccer field, a basketball court, an adult pool, a children's pool, and a gazebo.
Here you can enjoy free wifi, beach chairs, an indoor eating and hangout area, covered patios, and delicious coffee.
While Skye Canyon Park is the most popular park in the community, there is also Sky View Park and Eagle Canyon Park.
If you are looking for adventure, Skye Canyon is only 10 minutes away from the famous Red Rock Canyon.
6. Southern Highlands (An Affluent, Highly Sought-After Community)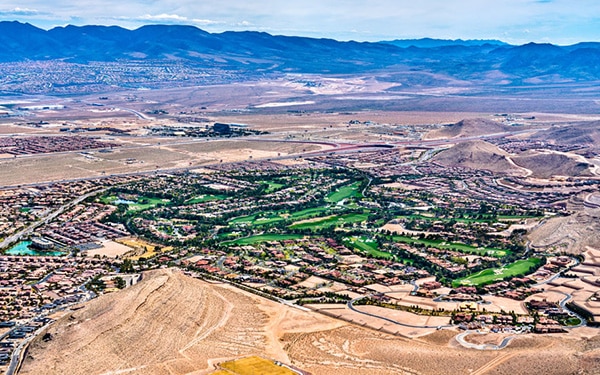 Located about 10 minutes south of The Strip, this 2,300-acre master planned community is a highly sought-after gem in the greater Las Vegas Area.
This community has everything that you'd expect—a resort, two retail hubs, several parks, two medical facilities, a public safety department, and an office complex. It is also guard-gated.
While Southern Highlands certainly offers a complete package, its prime location is probably its biggest draw.
The community is quite close to the Raiders Training Stadium, making it home to a number of NFL players. It is also located close to McCarran International and Henderson Executive Airport.
Southern Highlands Real Estate and Income Overview
Southern Highlands is a wealthy community and is divided into two main sections.
The northern section has more variety and is more appropriate for less-affluent families. Here you will find single-family homes, tract homes, entry-level condominiums, and even basement homes.
In the southern portion, you will find custom-built luxury estates from Blue Heron and other magnificent home builders.
According to Realtor.com, median listing home price is $586.5K, and median listing home price/sq ft is $253.
Multiple sources put the median household income at around $100K.
Schools Near Southern Highlands
Southern Highlands is located near several great schools.
These include Southern Highlands Preparatory, Kidz Preschool & Day Care, Aldeane Comito Reis Elementary, Charles and Phyllis Frias Elementary, Evelyn Stuckey Elementary, Lois and Jerry Tarkanian Middle School, and Desert Oasis High School.
Things To Do In Southern Highlands
There are numerous things for residents in Southern Highlands to do since the community is so close to The Strip. World-class restaurants, venues, and entertainment are only a 15-minute drive away.
For those who would rather not drive too far, Southern Highlands has the local M Resort Spa Casino and a handful of excellent restaurants.
Nature lovers will be happy to know that this community has seven different parks with playgrounds, soccer fields, basketball courts, tennis courts, swing sets, waterworks, walking and biking paths, garden areas, a gazebo, and pet accommodations.
The park system here is incredible and in itself is a draw for many people.
The names of the parks are Olympia Sports Park, Goett Park, Stonewater Park, Somerset Hills Park, Inzalaco Park, Jimmy Pettyjohn Jr. Park, and Doctor Harry B. Johnson Rose Garden (Rose Park).
For those who want to do some serious hiking, Southern Highlands is located near the Red Rock Canyon National Conservation Area.
Have we mentioned yet? Golfers can enjoy the Southern Highlands Golf Club, while organic food lovers can get fresh organic products at the Southern Highlands Farmers Market on Sundays.
7. Cadence (A Top-Selling Master Planned Community With Great Amenities)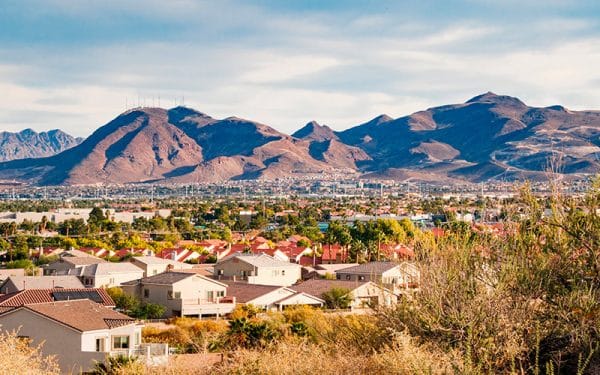 Located in Henderson, Cadence is one of the top-selling master planned communities in the United States due to its top-notch location, amenities, and homes.
Residents of Cadence are fairly close to downtown Las Vegas, Harry Reid International Airport, and Henderson Hospital. Residents also have access to several parks, trails, and conveniences in a spacious and comfortable setting.
Cadence Real Estate and Income Overview
A variety of single-family homes, townhomes, and condominiums are all available at Cadence.
Cadence homes have several floor plans, meaning you'll be able to find something unique and suitable for your family, whether you want a rooftop deck, a covered patio, or something else.
Several builders have homes in Cadence, including but not limited to American Homes, Lennar, Richmond American Homes, D.R. Horton, Harmony Homes, and Woodside Homes.
According to Realtor.com, median listing home price is $499.5K, and median listing home price/sq ft is $257.
According to ZeroDown, median household income is $65,480. Families with children are 23% of the total population.
Schools Near Cadence
The Henderson area in general is a fantastic place to live and is considered to be one of the best places to live in the United States, in part because of its high-quality schools.
Schools near Cadence include Josh Stevens Elementary School, Pinecrest Academy Horizon, Edna Hinman Elementary School, C.T. Sewell Elementary School,  Lyal Burkholder Middle School, B. Mahlon Brown Junior High School, Basic High School, Legacy Traditional School – Cadence (Henderson), and McCaw STEAM Academy.
Things To Do In Cadence
Cadence is close to restaurants and live entertainment and is also minutes away from Lake Las Vegas…and it's about 30 minutes from Lake Mead for those who don't mind the drive. Additional water-based activities can be found at The Cadence Central Park Pool.
Cadence also has plenty of trails for pedestrians and bikers and parks with wifi for those who want to study or relax.
The parks in Cadence are Central Park, Desert Park, Dakota Dog Park, and various Neighborhood Parks. The biggest of these is Central Park, which is 50 acres.
Cadence's trails are pretty substantial and include the River Mountain Loop, Las Vegas Wash, and Lake Mead Trail. All three of these trails run for several miles and offer stunning views. Believe it or not, Lake Mead Trail runs all the way to Hoover Dam.
Golfers will love the Reflection Bay Golf Club, which has an 18-hole course designed by Jack Nicklaus.
Sports enthusiasts in Cadence have plenty of options and have access to pickleball courts, baseball fields, and soccer fields, all within the comfort of the community.
Need a bike? The community offers a Bike Share Program, meaning you can cycle to your favorite spots.
There is so much to do in Cadence, and we've only touched on a portion of it. But there is something for people of all ages and lifestyles here.
Our Other Picks Category
We hope you've enjoyed our top picks for neighborhoods and communities in Las Vegas. To complete this list, we are adding a few additions with quick summaries for your reference.
8. Valley Vista (Great For Young Families)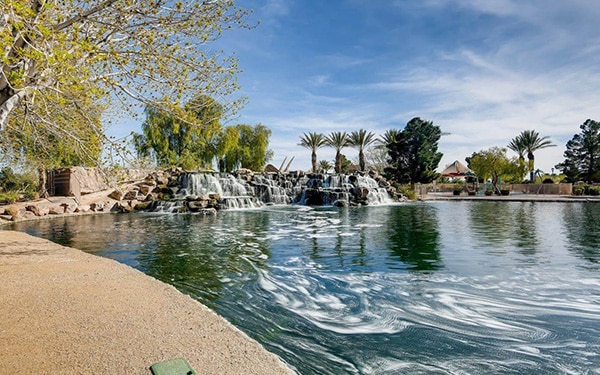 This is a new master planned community located near Tule Springs and specifically the Aliante Casino Hotel and Spa and Aliante Discovery Park.
Close to schools, grocery stores, shopping outlets, restaurants, and entertainment, this community holds a lot of promise for young families due to its affordability and its homes with big backyards and pools.
According to Realtor.com, the median housing listing home price in North Las Vegas (which is where Valley Vista is located) is $400K, and median listing home price/sq ft is $218.
According to Niche, the median home value in North Las Vegas is $233,600, median rent is $1,206, and median household income is $59,835.
9. Tule Springs (A Friendly Community Away From Las Vegas)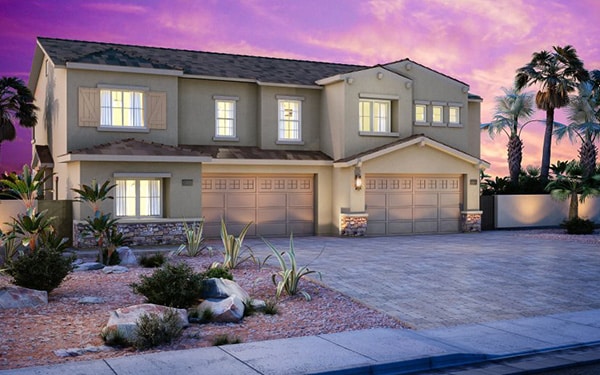 Another North Las Vegas community, Tule Springs, is a friendly neighborhood located well away from the hustle and bustle of Las Vegas, making it an attractive draw for many.
Here you'll find plenty of amenities due to the nearby North Las Vegas community of Sun City Aliante.
Safety and affordability are some of the biggest draws for this area.
Most builders are saying prices for homes in this community range from $300K to $600K.
There is a new master planned community being built in the area called the Villages at Tule Springs.
10. Rhodes Ranch (An Appealing Guard Gated Community For Professionals)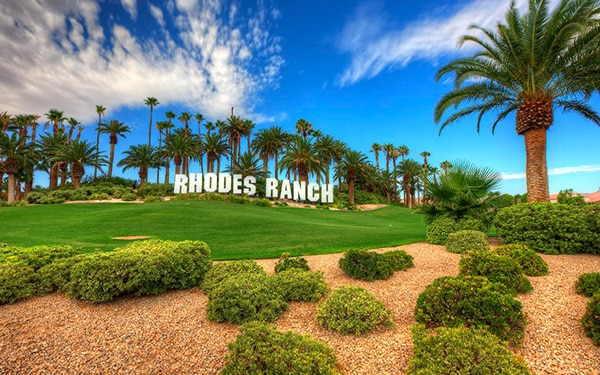 Developed in 1997, Rhodes Ranch is a 1300-acre community that lies on the southwest edge of Las Vegas, near Spring Valley.
This master planned golfing community is perfect for those who want a relaxing environment and quick access to amenities.
According to Realtor.com, median home price is $476.5K, and median listing home price/sq ft is $247.
For more information about the average annual salary in this community, contact us at (702) 310-6683.
Got Mortgage Questions? Need Help With Any Other Topics? Contact Us
We know that moving can be a big deal, so if you need help of any kind during this process, or if you have any questions about mortgage loans, buying your house, how to get your house inspected, getting insurance, or if you are curious to know more about the best suburbs in the Las Vegas area, contact us today at (702) 310-6683.
We'd love to open a dialogue with you!